It has been a good week. First of all, my Hammerfish drawing got published in Sanskrit Literary-Arts Magazine. This magazine contains artwork, stories and poems made by UNC Charlotte students and is produced once a year. The new issue looks great. 
To celebrate the publication, a show has set up with artwork from the magazine. My drawing was there too of course.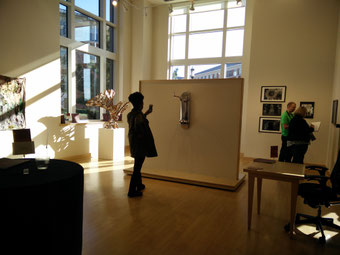 In addition, I was invited by the supervisor of Rowe Hall Gallery to turn in my painting Abstract I. It was given a neat spot at the end of a long hallway. The supervisor explained that my abstract contains a variation and detail that keeps hold of the attention of passers-by from one end of the hall to the other. 
I am overjoyed to see my painting hanging in such a frequently visited place! And also a bit sad because it will be there (and not at my home) for a whole year :(.